Sudersands Strandcamping, Fårö
Address

: Sudersand PL 5802, 624 67 Fårö
show map
Camping | Sudersands Camping is located on beautiful Fårö and is next door to Sudersands Holiday Village located nearby. We are one of the largest camping on Gotland and is situated only 100 meters from the wonderful sandy beach Sudersand!
Sudersands Camping is located in the Western side of Sudersand, only 100 meters from the child-friendly, wonderful Sudersand beach. We are a good alternative for families with children, because it close to the beach, separated from the major roads, and close to the beautiful nature.
On Sudersands (in walking distance) is a playground, boules plane, footballfield, cafes and restaurants.
Here we have campsites for your motorhome, caravan or tent. With or without electricity.

We have 2 service buildings, an opportunity to recharge of fresh water and latrine emptying.

The area has cafes, restaurants, grocery, playground, swimming pool, mini golf and football ground plane, all within walking distance.

Please note that we are members of the SCR and the guest must be the holder of Camping Key Europe! These are valid 1 year at 500 campsites in Sweden and in Europe.
We will help you at check in if not holder of such card. 150 sek.
Restaurant
Disabled-friendly
Pets allowed
Facilities and services
Facilities

Shared kitchen

Laundry facilities

Coastal (0-800 m from the water)

Eat & Drink on site

Leisure facilities

Bicycle rental

Outdoor pool

Playground

Sauna

Special requirements

Pets allowed

Disabled-friendly
Good to know
Check in (earliest)

Check out (latest)
Compare "Sudersands Strandcamping, Fårö" with similar alternatives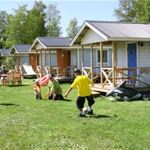 Welcome to Strandskogens Camping. Strandskogen family campsite is situated in Sudersand, 18 km from Broa ferry terminal.
A nice priceworthy youth hostel on Fårö. You have one of Gotlands nicest beaches just 200 meters away. Fårö has an ability to affect. When the famous profile of film and theater, Ingemar Bergman, visited Fårö for the first time the encounter was overwhelming – "If you wish to be solemn you might say I found my home, my true home. If you whish to be amusing you can talk about love at first sight..." Sudersands youth hostel are situated in a area with the nicest beaches on Gotland. The Holiday village has both cottages, apartment, a youth hostel and camp site. In the area you have pool, restaurant and bike-rentals. The hostel is open between May to September.
Sudersands Hotel is located within a walking distance to the beach of Sudersand is our newly built hotel. This is the first and only hotel at Fårö and Sudersand.