Congress - food
Address: Strandvägen 4, 621 55 Visby
Date: Wednesday 8 sep 2021 - Thursday 9 Sep 2021
Show map
Hostel
Distance: 196 meters
At Visby Vandrarhem you stay in newly renovated (2011) rooms in the center of world heritage town Visby. A view of the Baltic sea from almost every room and a wonderful terrace where you can enjoy your breakfast or a glass of wine. A perfect base for your Gotl
Hotel
Distance: 218 meters
New Hotel of 2019! Welcome to Hotel Visby Börs, Visby's oldest and at the same time newest hotel. Which again opens the gates towards the evening sun and beautiful Strandgatan in the Hanseatic Town of Visby.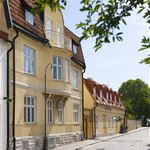 Bed & Breakfast
Distance: 206 meters
Welcome to Wisby Residence B&B, your accommodation centrally located in the harbor and close to the park of Almedalen. In just a few footsteps you can enjoy the seaside and the city of Visby.