Roleplayingnight in Medieval setting
Address: Kapitelhusgården S:t Drottensgatan 8, 62156 Visby
Date: Friday 3 sep 2021 - Friday 17 Dec 2021
Show map
Address: Kapitelhusgården S:t Drottensgatan 8, 62156 Visby

Never tried roleplaying? Old veteran? This suits everyone! Take the chance to play Dungeons & Dragons in the 13th Century restaurant Kapitelhusgården. No need to prepare anything, just show up and have fun!
We promise 4 hours of entertainment, epic adventures and loads of laughs. Indulge in a wide and varied selection of meads and authentic medieval fare while you roll dice and delve deeper into the story together.
Come as a group or on your own to meet new friends!

D&D Visby lets everyone, beginners aswell as old verterans take on an unique adventure in a cozy environment.
When you sign up you get all the information you need, and when you show up to play you will first mingle for 30 minutes with everyone in your group before we get seated and start after a short introduction.
No preparation or experience needed!
Show more
Book now - choose start date and product
Hotel
Distance: 119 meters
Best Western Strand Hotel is a first-class hotel with an environmental profile and personal service. It is located in the heart of the World Heritage City of Visby, just inside the medieval city wall and a stone's throw from the sea.
Hotel
Distance: 150 meters
LAST MINUTE ROOMS! Exclusive and unique small hotel, located in a calm oasis in the UNESCO world heritage city of Visby, 275 meters from the sea, built in a 14th century house. Beautiful romantic rooms furnished in historical style, wooden floors and limestone walls. High comfort beds with down duvets in 100 percent cottage. Great breakfast buffet with warm and cold dishes, mainly organic, is included in your room rate. The hotel is located only 0-5 min walk to Visby´s very best restaurants. Warmly welcome to us! Discount on Sundays.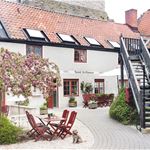 Hotel
Distance: 157 meters
A family-run hotel in the heart of inner-city Visby. Five historical buildings, 30 pleasant rooms, two charming gardens and the ruins of a medieval church. Personal service and wireless Internet are always included in the price. We welcome you to the Hotel St Clemens!