Guided tour of the brewery and beertasting at Hop Shed Brew Pub
Address: Broväg 119, 62173 Visby
Date: Friday 11 jun 2021 - Friday 17 Dec 2021
Show map
Address: Broväg 119, 62173 Visby

With us you get an exciting tour of the brewery and pub environment.
We teach you how the beer is brewed, packaged and then consumed.
For this we also serve suitable street food.
All this you can experience in our old Gotland limestone barn.
We at Hop Shed Brew Pub proudly offer an exciting experience in the world of Gotland beer.
With us you get an interesting guide on how the beer from brewing to end up in your glass.
This activity takes place in our own brewery pub. Once you have learned this, we sit down and taste different beers. We have 20 different varieties on our tapwall! Most varieties are our own, but we also highlight many other breweries from Gotland.
To this end, suitable street food is also served in an environmentally friendly and sustainable way.
This visit takes about 1,5 hours.
Cheers and welcome!
Show more
Book now - choose start date and product
Hotel
Distance: 2.5 km
Welcome to Snäck Annex, which is situated at beautiful seaside 3 km North of Visby. We can offer you pleasent atmosphere close to nature. Sunset is amazing in evenings. We provide you with nice service in our cosy rooms same time we will take care that you feel comfortable while staying with us. We hope that you enjoy staying in Snäck Annex!
Hostel
Distance: 2.8 km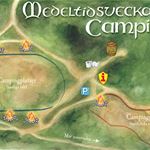 Camping
Distance: 2.5 km
Welcome to The Medieval Week's Campground. With the city close by but in a secluded environment, sea views and a lively camp site are all part of what will make for a really pleasant stay and a great opportunity to meet new and old friends.