Osoite: Hamngatan 4 Visby

Mountain biking is a smart and convenient way to get around in the nature. At the same time it can be tricky, challenging and adventurous if you want. What's always present is the fun and enjoyment it brings.
We head out from Visby alongside the city wall and out in the nearby coastal landscape. We'll be riding on trails surrounded by ivy coated trees and lush forests. But also high up on the cliff where the view is magnificent.
We'll get a tease and taste of what it is to be a mountain bike rider, but without setting any demands.

The tour is for you who wants to try mountain biking, or for the experienced biker who wants to get to know the area around Visby a little better.

Included:
- Renting of Bianchi mountain bike and helmet
- Guided mountain bike tour of two hours

Age limit:
Recommended from 12 years old

If the date or time doesn't suit you we gladly arrange for you another day. Get in contact with Gotland Active Store.
Näytä lisää
Lähellä olevia majoituksia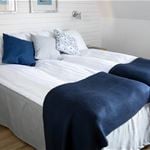 Hotelli
Etäisyys: 49 metriä
Three-star Hotel Stenugnen is situated next to the small boat harbour, central in Visby. The well-known historical Visby wall is in our breakfast room. A few minutes walk from our hotel and you're at the beach or by the Botanical Garden.
Bed & Breakfast
Etäisyys: 26 metriä
Welcome to Wisby Residence B&B, your accommodation centrally located in the harbor and close to the park of Almedalen. In just a few footsteps you can enjoy the seaside and the city of Visby.
retkeilymaja
Etäisyys: 0 metriä
At Visby Vandrarhem you stay in newly renovated (2011) rooms in the center of world heritage town Visby. A view of the Baltic sea from almost every room and a wonderful terrace where you can enjoy your breakfast or a glass of wine. A perfect base for your Gotland experience. Access the sea, Visbys famous restaurants and cafe´s, alleys and shops within seconds.