Viktig information gällande det nya coronaviruset covid-19, uppdaterad 3 april 2020. Läs mer här!
Night Safari - experience the magic sounds of the night
Osoite: Hamngatan 4, 62157 Visby
Päivämäärä: Keskiviikko 17 kesä 2020 - keskiviikko 24 kesä 2020
Näytä kartta
Osoite: Hamngatan 4, 62157 Visby

Enjoy the magic sounds of the summer night.
Join a night safari and feel the magic sounds from Natures own musicians. The late spring is the time to hear sounds of the night. During a late night tour we go to gotland's best places for night-singing birds.
Expected species are Thrush Nightingale, Corncrace, Woodcock, Nightjar, Grasshopper Warbler, River Warbler, Spotted Crake and may be Quail. If it a still evening, the concert is intensive. If you are lucky – you have a chance to see an owl hunting.
ncluded
• Guided Night Safari
• Transport in minibus
• Coffe/Tea and cinnamon bun.

Programme for the Night Safari
20:30 Start Gotland Active Store, Hamngatan 4, Visby. Departure for Roma/Halla.
21:00 We wait for the dusk and listen after the first thrush nightingales and corncrakes.
21:30 Coffe break and then transport to other good places for night sound.
01:30 Return Visby.

Two tours 2019.
May 29 and June 7.
Näytä lisää
Osta nyt - valitse päivä ja tuote
| Aktiviteetti | Kokonaishinta |
| --- | --- |
Lähellä olevia majoituksia
Bed & Breakfast
Etäisyys: 15 metriä
Welcome to Wisby Residence B&B, your accommodation centrally located in the harbor and close to the park of Almedalen. In just a few footsteps you can enjoy the seaside and the city of Visby.
retkeilymaja
Etäisyys: 23 metriä
At Visby Vandrarhem you stay in newly renovated (2011) rooms in the center of world heritage town Visby. A view of the Baltic sea from almost every room and a wonderful terrace where you can enjoy your breakfast or a glass of wine. A perfect base for your Gotland experience. Access the sea, Visbys famous restaurants and cafe´s, alleys and shops within seconds.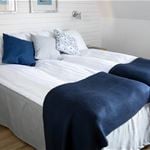 Hotelli
Etäisyys: 32 metriä
Three-star Hotel Stenugnen is situated next to the small boat harbour, central in Visby. The well-known historical Visby wall is in our breakfast room. A few minutes walk from our hotel and you're at the beach or by the Botanical Garden.