Wisby Residence B&B
Sijainti
: Visbyn kaupunginmuurin sisäpuolella
(Rannikonläheinen)
Bed & Breakfast | Welcome to Wisby Residence B&B, your accommodation centrally located in the harbor and close to the park of Almedalen. In just a few footsteps you can enjoy the seaside and the city of Visby.
So most of the best that our amazing city has to offer is located just outside your door or within walking distance. Some of our rooms do have sea views.

We offer a modern accommodation in a comfortable double room, a quiet triple room or in our large four bed room. Or why not rent the entire accommodation for your own use. In our newly renovated (2018) accommodation, you share a kitchenette, a bathroom and a guest toilet and all this on the same floor.

A breakfast is included in the shared kitchenette/kitchen. Each room has its own designated ingredients and can decide when and where they wish to have their breakfast. Coffee and tea are available when you like, feel free to brew your own cup. At your breakfast you will find milk, yogurt, marmalade, butter, cheese, ham, vegetables such as tomato, cucumber or peppers. You will also find bread and cereals for you to enjoy.

We do love animals but unfortunately we do not have space for them to stay. Do remember that our accommodation is a quiet family home and we have a non-smoking policy.

In the room rate breakfast, linen and towels, final cleaning and Wifi is included.

Welcome to Wisby Residence B&B!
Varustus ja palvelut
Viime kunnostus

Varustus ja palvelut

Yhteinen keittiö

Internetti

Lakanat sisältyy

Lähellä rannikkoa, 0–800 m

Special requirements
Vertaa "Wisby Residence B&B" samanlaisiin vaihtoehtoihin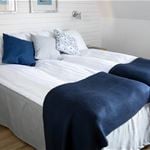 Three-star Hotel Stenugnen is situated next to the small boat harbour, central in Visby. The well-known historical Visby wall is in our breakfast room. A few minutes walk from our hotel and you're at the beach or by the Botanical Garden.
At Visby Vandrarhem you stay in newly renovated (2011) rooms in the center of world heritage town Visby. A view of the Baltic sea from almost every room and a wonderful terrace where you can enjoy your breakfast or a glass of wine. A perfect base for your Gotland experience. Access the sea, Visbys famous restaurants and cafe´s, alleys and shops within seconds.
Clarion Hotel Wisby on nykyaikainen ja ensiluokkainen hotelli Visbyn keskustassa. Hotellin vanhimmat osat ovat peräisin 1200-luvulta. Perinteitä kunnioittaen entisöityjen ristiholvien, pylväikköjen ja idyllisen kujan luoma keskiaikainen tunnelma on suorastaan käsinkosketeltavissa. Olemme ylpeitä miljööstämme ja toivotamme Teidät tervetulleeksi katsomaan, kokemaan ja myös koskemaan - hotellimme ei kuitenkaan ole museo, vaan moderni ja toimiva hotelli. Huoneet, kokoustilat, ravintolat, baarit, hemmeotteluosasto ja vihkikappeli ovat käytettävissänne ja olette tervetulleita niitä hyödyntämään.