Important information regarding the new coronavirus and covid-19. Updated May 28, 2020. Read more here →
Destination Gotland is following the recommendations of the Public Health Authority and we reserve the right to change the time table at short notice.
Roleplaying at a cozy British Pub
Address: Blacksheep Arms S:t Hansgatan 51, 62156 Visby
Show map
Address: Blacksheep Arms S:t Hansgatan 51, 62156 Visby

Never tried roleplaying? Old veteran? This suits everyone! Take the chance to play Dungeons & Dragons in cozy Blacksheep Arms in Visby. No need to prepare anything, just show up and have fun!
We promise 4 hours of entertainment, epic adventures and loads of laughs. Indulge in Blacksheep Arms selection of fine ales, malts and hearty Yorkshite-food while you roll dice and delve deeper into the story together.
Come as a group or on your own to meet new friends!

D&D Visby lets everyone, beginners aswell as old verterans take on an unique adventure in a cozy environment.
When you sign up you get all the information you need, and when you show up to play you will first mingle for 30 minutes with everyone in your group before we get seated and start after a short introduction.
No preparation or experience needed!
Show more
Hotel
Distance: 141 meters
In the heart of the medieval town of Visby on the beautiful island of Gotland, you find Hotell Gute, a family owned hotel and a nice place to stay when you visit Visby. Hotell Gute is a star classified hotel with 3 stars.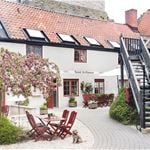 Hotel
Distance: 140 meters
A family-run hotel in the heart of inner-city Visby. Five historical buildings, 30 pleasant rooms, two charming gardens and the ruins of a medieval church. Personal service and wireless Internet are always included in the price. We welcome you to the Hotel St Clemens!
Hotel
Distance: 93 meters
Best Western Strand Hotel is a first-class hotel with an environmental profile and personal service. It is located in the heart of the World Heritage City of Visby, just inside the medieval city wall and a stone's throw from the sea.