Stråkkvartettskonsert - Ericsbergskvartetten
Location
: Visby inside the city walls
Smedjegatan 5 C 57.64304, 18.29621, 62157 Visby (
show map
)
Arena/Place:
Hotel
Distance: 163 meters
Breda Blick Hotel consists of two centenary buildings located in Visby's beautiful city center, right next to the Botanical garden.
Hotel
Distance: 66 meters
LAST MINUTE ROOMS! Exclusive and unique small hotel, located in a calm oasis in the UNESCO world heritage city of Visby, 275 meters from the sea, built in a 14th century house. Beautiful romantic rooms furnished in historical style, wooden floors and limestone walls. High comfort beds with down duvets in 100 percent cottage. Great breakfast buffet with warm and cold dishes, mainly organic, is included in your room rate. The hotel is located only 0-5 min walk to Visby´s very best restaurants. Warmly welcome to us! Discount on Sundays.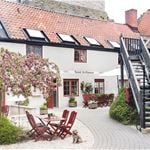 Hotel
Distance: 24 meters
A family-run hotel in the heart of inner-city Visby. Five historical buildings, 30 pleasant rooms, two charming gardens and the ruins of a medieval church. Personal service and wireless Internet are always included in the price. We welcome you to the Hotel St Clemens!