The much appreciated singer-songwriter festival Visbyfestivalen celebrates its 10 year anniversary! The 25th-28th Aug international, national and gotlandic artists gather in Visby and perform.
Acoustic, small and intimate. That's Visbyfestivalen for you! For us music is a meeting between artist and public. Words and notes springs to life, thoughts and emotions are shared, voices and music transcends all barriers and go straight into your heart.

Here you can see artists like Marie Bergman with Bergman DNA Band, Dan Hylander Trio, Jamie Meyer, Anna Christoffersson and many, many more. Saturday, the big festival day, they all perform back-to-back from 11 am to 11 pm, on Joda's yard.

Festivalbiljett
Want to see and listen to Visbyfestivalen, the performance on saturday 27th, at Jodas yard?
Buy a Festivalbiljett, à 300 SEK (children 150 SEK).

Guldbiljett
Are you a hard-core fan or a singer-songwriter and want to participate in everything from Friday 26th to Sunday 28th? Buy a Guldbiljett à 795 SEK!
Includes dinner with the artists on Friday - Barbeque at Scandic with Samples of Visbyfestivalen, the Festival Saturday 27th at Jodas yard and all three workshops on Sunday the 28th.
Date

Time

Arena/Place

Saturday 17 aug 2019
4:00 PM

- 11:00 PM

Visby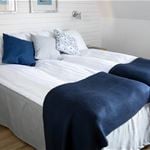 Hotel
Distance: 45 meters
Three-star Hotel Stenugnen is situated next to the small boat harbour, central in Visby. The well-known historical Visby wall is in our breakfast room. A few minutes walk from our hotel and you're at the beach or by the Botanical Garden.
Hostel
Distance: 82 meters
At Visby Vandrarhem you stay in newly renovated (2011) rooms in the center of world heritage town Visby. A view of the Baltic sea from almost every room and a wonderful terrace where you can enjoy your breakfast or a glass of wine. A perfect base for your Gotland experience. Access the sea, Visbys famous restaurants and cafe´s, alleys and shops within seconds.
Bed & Breakfast
Distance: 59 meters
Welcome to Wisby Residence B&B, your accommodation centrally located in the harbor and close to the park of Almedalen. In just a few footsteps you can enjoy the seaside and the city of Visby.