Mikael Wiehe
Stora Gåsmora 4200, 624 67 Fårö (
show map
)
Arena/Place:
Camping
Distance: 2.1 km
Sudersands Camping is located on beautiful Fårö and is next door to Sudersands Holiday Village located nearby. We are one of the largest camping on Gotland and is situated only 100 meters from the wonderful sandy beach Sudersand!
Hostel
Distance: 2.6 km
A nice priceworthy youth hostel on Fårö. You have one of Gotlands nicest beaches just 200 meters away. Fårö has an ability to affect. When the famous profile of film and theater, Ingemar Bergman, visited Fårö for the first time the encounter was overwhelming – "If you wish to be solemn you might say I found my home, my true home. If you whish to be amusing you can talk about love at first sight..." Sudersands youth hostel are situated in a area with the nicest beaches on Gotland. The Holiday village has both cottages, apartment, a youth hostel and camp site. In the area you have pool, restaurant and bike-rentals. The hostel is open between May to September.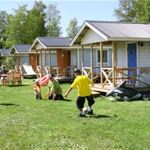 Camping
Distance: 2.6 km
Welcome to Strandskogens Camping. Strandskogen family campsite is situated in Sudersand, 18 km from Broa ferry terminal.