Mikael Wiehe
Stora Gåsmora 4200, 624 67 Fårö (
Show map
)
Arena/Place:
Hotel
Distance: 2.6 km
Sudersands Hotel is located within a walking distance to the beach of Sudersand is our newly built hotel. This is the first and only hotel at Fårö and Sudersand.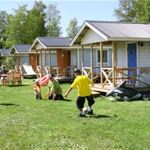 Camping
Distance: 2.6 km
Welcome to Strandskogens Camping. Strandskogen family campsite is situated in Sudersand, 18 km from Broa ferry terminal.
Camping
Distance: 2.1 km
Sudersands Camping is located on beautiful Fårö and is next door to Sudersands Holiday Village located nearby. We are one of the largest camping on Gotland and is situated only 100 meters from the wonderful sandy beach Sudersand!