Gotland Harvest Festival 1-day pass
Location
: Eastern and mid Gotland
Roma Lövsta 10, 62254 Romakloster (
show map
)
Category:
Gotlands Skördefestival
Date: Saturday 7 sep 2019
- Sunday 8 Sep 2019
Hotel
Distance: 4 km
Hotell Dalhem is a rural and private accomondation with restaurant and conference facilities, about 15 minutes south of Visby. The hotel's position in the center of Gotland makes it a perfect starting point for excursions throughout the island.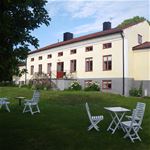 Bed & Breakfast
Distance: 7.1 km
We warmly welcome you to Mallas Stenstugu, a B&B with 9 rooms just 12 km from the main town Visby. Your room is ready and waiting, the beds made up with organic cotton bed linen, and the organic breakfast buffet is at your disposal each morning, served in the large green house in the garden.
Hotel
Distance: 4.4 km
Hallfreda Hotell is situated in an idyllic landscape, lies 9 km east from Visby, on one of Gotland's largest properties. The house dates back from the 14th century and is today a newly opened hotel. This hotel blends together a mixture of Italian impre