Fårösunds Hotell
Address

: Fårövägen 11, 62462 Fårösund
show map
Location
: Northern Gotland incl Fårö
(Coastal)
Facilities and services
Capacity

Leisure facilities

Parking

Special requirements

Smoking not allowed

Disabled-friendly
Good to know
Check in (earliest)

Check out (latest)
Compare "Fårösunds Hotell" with similar alternatives
Holidays on the seaside For those who are seeking for seashore and beach vacation or for a genuine Gotland experience, Valleviken offers different ways of accommodation. Either if you like to stay close to the waterline with busy boat life, or prefer to be surrounded by nature with many interesting sites and activities nearby, Valleviken is exactly what you are looking for.
Sudersands Camping is located on beautiful Fårö and is next door to Sudersands Holiday Village located nearby. We are one of the largest camping on Gotland and is situated only 100 meters from the wonderful sandy beach Sudersand!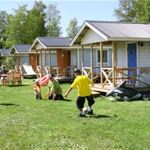 Welcome to Strandskogens Camping. Strandskogen family campsite is situated in Sudersand, 18 km from Broa ferry terminal.