Best Western Solhem Hotel
Address

: Solhemsgatan 3, 621 58 VISBY
show map
Location
: Visby outside the city walls
(Coastal)
Hotel | Right next to the well-preserved 13th-century Visby ring wall lies the BEST WESTERN Solhem Hotel, a quiet, peaceful park location just a stone's throw from central Visby with its restaurants, shopping and sights.
This three-star hotel, which has earned the Nordic Swan environmental label, has 94 rooms, three meeting rooms, a restaurant for conferences and groups, free Wi-Fi, a lovely garden and parkingplaces (at additional costs) just outside the door.

The oldest part of the hotel dates back to the early 20th century. It has been built in stages over the years and is continuously evolving. All rooms in the hotel have a unique style and interior, but all maintain the same high standard. This contributes to the charm and personal touch of the hotel. Choose from a private balcony or an incredible view of the sea and the World Heritage City of Visby. A big breakfast buffet is included in all room prices.

Please note that guests staying during week 29 must be 20 years or older

See you soon!
Smoking not allowed
Disabled-friendly
Pets allowed
Elevator
Facilities and services
Capacity

Number of floors: 3

Conference rooms: 3

Last renovated year

Facilities

Conference Room

Wireless Internet

Safe Deposit

Coastal (0-800 m from the water)

Leisure facilities

Parking

Special requirements

Smoking not allowed

Pets allowed

Disabled-friendly
Good to know
Check in (earliest)

Check out (latest)
Compare "Best Western Solhem Hotel" with similar alternatives
In the heart of Visby you will find our lovely hotel with its pretty & quiet courtyard, rooms with white linen, pale grey walls & soft cushions.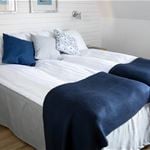 Three-star Hotel Stenugnen is situated next to the small boat harbour, central in Visby. The well-known historical Visby wall is in our breakfast room. A few minutes walk from our hotel and you're at the beach or by the Botanical Garden.