Sudersands SVIF hostel on Fårö
Address

: 0498-22 35 36, Sudersand, Fårö, 62467 Fårö
show map
Hostel | A nice priceworthy youth hostel on Fårö. You have one of Gotlands nicest beaches just 200 meters away.

Fårö has an ability to affect. When the famous profile of film and theater, Ingemar Bergman, visited Fårö for the first time the encounter was overwhelming – "If you wish to be solemn you might say I found my home, my true home. If you whish to be amusing you can talk about love at first sight..."

Sudersands youth hostel are situated in a area with the nicest beaches on Gotland. The Holiday village has both cottages, apartment, a youth hostel and camp site.
In the area you have pool, restaurant and bike-rentals.

The hostel is open between May to September.
The youth hostel has 54 beds.
The room is in single, double and familyrooms (4-beds).

A kitchen for selfcatering. A TV room, common showers and WC.
Some of the rooms has their own entrance.
Smoking not allowed
Disabled-friendly
Pets allowed
Facilities and services
Capacity

Number of floors: 1

Number of bars 1

Conference rooms: 2

Built in year

Last renovated year

Facilities

24 hours check-in

Shared kitchen

Conference Room

Laundry facilities

Shared bathroom

Shared shower

Internet

Shared dining area

TV room

Coastal (0-800 m from the water)

Leisure facilities

Bicycle rental

Sauna

Barbecue facilities

Parking

Special requirements

Smoking not allowed

Pets allowed

Disabled-friendly
Good to know
Check in (earliest)

Check out (latest)
Compare "Sudersands SVIF hostel on Fårö" with similar alternatives
Sudersands Hotel is located within a walking distance to the beach of Sudersand is our newly built hotel. This is the first and only hotel at Fårö and Sudersand.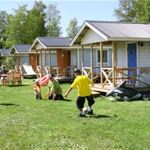 Welcome to Strandskogens Camping. Strandskogen family campsite is situated in Sudersand, 18 km from Broa ferry terminal.
Sudersands Camping is located on beautiful Fårö and is next door to Sudersands Holiday Village located nearby. We are one of the largest camping on Gotland and is situated only 100 meters from the wonderful sandy beach Sudersand!