Visby Strandby - Norderstrand
Address

: Camping: Snäckgärdsvägen 32, 621 56 Visby Camping: Snäckgärdsvägen 32, 621 56 Visby (Ändring och avbokning görs på telefon 0771-223300), 621 57 Visby
show map
Location
: Visby outside the city walls
(Coastal)
Camping | Camping site at Norderstrand/Visby Strandby with a splendid location by the sea only 1 km from the old City wall. Only a short walk from what the Hanseatic Visby has to offer of stores, shopping, restaurants and night life.
The campsite has pitches for caravans, motorhomes and tents all with access to service buildings. Down at the beach are swimming jetties, a beach restaurant, and an outdoor gym (free) and charcoal grills.

The campsite is located by the sea, just north of the Visby hospital, at a convenient walking distance from the City Wall and the Hanseatic city's entire range. Most of our pitches with electricity points and our cabins offers a partial sea view!

Guests must be at least 18 years old; everyone staying/camping in the facility will be asked to show ID at check-in. Guests are expected to keep things tidy and maintain a pleasant, peaceful environment.

Please note that this is a city campsite, meaning that people and traffic pass by during most of the day and night. The two service buildings offers an excellent standard, including a shower for dogs, pay showers, toilets, kitchen facilities, and a laundry (at a surcharge).



Check in from 15.00
Check out before 11.00

Distance to: Visby City Wall 1 km, store 2 km, airport 3 km, harbor terminal 2 km, ATM 500 m, beach 50 and summer restaurant 100 m.

Welcome!
Facilities and services
Facilities

Coastal (0-800 m from the water)

Special requirements
Good to know
Check in (earliest)

Check out (latest)
Compare "Visby Strandby - Norderstrand" with similar alternatives
Welcome to The Medieval Week's Campground. With the city close by but in a secluded environment, sea views and a lively camp site are all part of what will make for a really pleasant stay and a great opportunity to meet new and old friends.
Breda Blick Hotel consists of two centenary buildings located in Visby's beautiful city center, right next to the Botanical garden.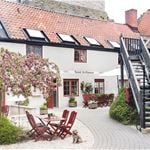 A family-run hotel in the heart of inner-city Visby. Five historical buildings, 30 pleasant rooms, two charming gardens and the ruins of a medieval church. Personal service and wireless Internet are always included in the price. We welcome you to the Hotel St Clemens!