Hotell Slottsbacken
Address

: Visborgsgatan 1, 621 57 Visby
show map
Location
: Visby inside the city walls
(Coastal)
Facilities and services
Capacity

Number of floors: 4

Number of bars 0

Conference rooms: 1

Built in year

Last renovated year

Facilities

Conference Room

Wireless Internet

Safe Deposit

Coastal (0-800 m from the water)

Special requirements
Good to know
Check in (earliest)

Check out (latest)
Compare "Hotell Slottsbacken" with similar alternatives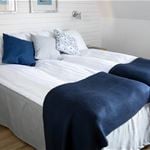 Three-star Hotel Stenugnen is situated next to the small boat harbour, central in Visby. The well-known historical Visby wall is in our breakfast room. A few minutes walk from our hotel and you're at the beach or by the Botanical Garden.
In the heart of Visby you will find our lovely hotel with its pretty & quiet courtyard, rooms with white linen, pale grey walls & soft cushions.
Right next to the well-preserved 13th-century Visby ring wall lies the BEST WESTERN Solhem Hotel, a quiet, peaceful park location just a stone's throw from central Visby with its restaurants, shopping and sights.